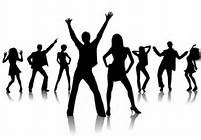 Why not try the INSTRUCTOR/SECTION!!

What do we mean?
This section has been provided as an opportunity for all dancers, social or otherwise, to do a social level dance with their instructor - its as easy as showing up at class or dancing at a social - no pressure at all!

How does it work?
Every line dance class in WA can compete against each other in a friendly - fun and entertaining dance off!
The only rule is
a teacher may dance WITH EACH CLASS they teach and a student may dance with each class/group they attend.

If a student goes to several classes, they can enter in each class team that they attend!
If an instructor runs several classes, they can enter each class separately!!
The instructor or class choose the dance they want to do - be it a recently taught dance, or a just a classic that everyone knows (eg. chill factor) that's fine!
Want to get dressed up in an outrageous costume - why not!
Want to do the dance in a circle, freestyle, changing formations, facing each other - GO FOR IT!

And here is the best bit:
ITS FREE TO ENTER THIS SECTION!